Mutton China Peas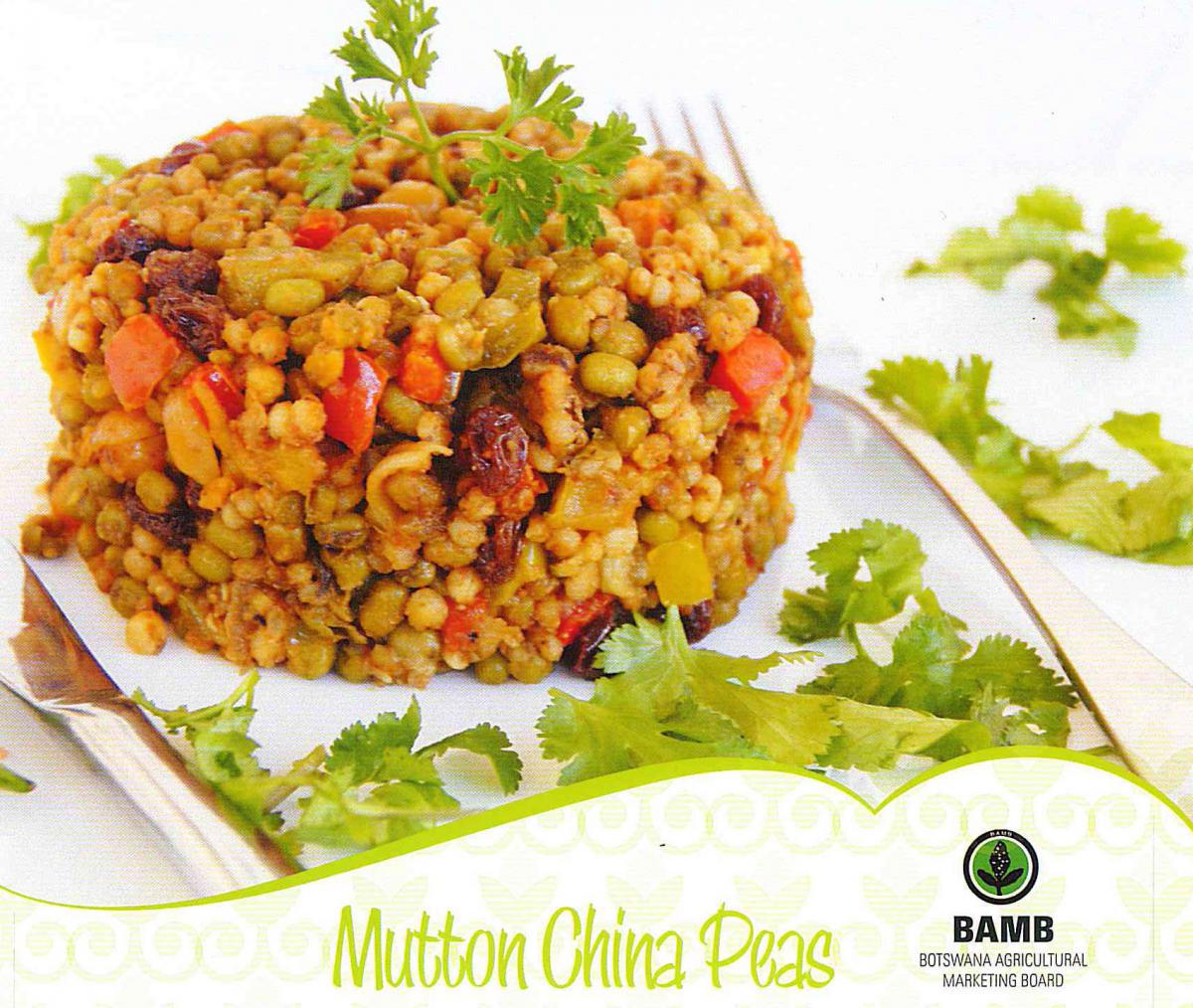 Ingredients
- 250g China peas (BAMB Letlhodi)
- 250g Sorghum rice (BAMB Mosutlhane)
- ¾ Cup groundnuts (BAMB groundnuts)
- 500g mutton, diced, 2 onions, 5 bay leaves
- ½ tspn ground cumin, ½ tspn ground cinnamon, ½ tspn turmeric, 1 potato (cubed), ¾ cup seedless raisins
- Salt and pepper for seasoning
- ½ tspn ground masala,
- 1 tspn fresh garlic, crushed
- 1 tspn fresh ginger, crushed
- 1 diced red pepper (capsicum), 1 green pepper, 2 tomatoes, 1 bundle of spring onion (chopped)
- Tspn of BAMB Sunflower, ¼ cup tomato sauce
METHOD
STEP 1
Boil 2 litres of water mixed with ½ tspn of ground turmeric and add 250g of sorghum rice. Boil for 12 minutes until the rice is tender, drain with cold water and keep aside. Bring another 2 Liters of water to boil, add china peas, and boil for 10 minutes until it is tender. Drain and keep aside in a bowl. Boil the cubed potatoes, drain and fry them with the onions and keep aside in a bowl.
STEP 2
Coat mutton pieces with combined; ground cumin, cinnamon, masala, ginger, garlic and bay leaves. Heat oil pan and add coated mutton pieces, chopped tomatoes and allow to cook for 8 minutes. Add red and green pepper capsicum, spring onions, seedless raisins, china peas, sorghum rice, fried onion and potatoes, groundnuts, salt and pepper, tomato sauce. Mix all the ingredients together. Cover with silver foil and tightly close the lid. Allow to steam on medium heat for further 5 minutes. Use a spoon to check if the mutton china peas is dry at the bottom, not watery and remove it from the stove, serve.
Click here to download Mutton China Peas...